Study Tour Program
The aim of this tour is to give the participants an overview of the Asian society. To achieve this, a number of scientific institutes and cultural phenomena will be visited. About two third of the program will consist of visits to scientific institutes, one third will be spent on cultural activities.
The tour will took place in April and May 2005 with a group of 25 students and 2 people from the scientific staff of the University of Groningen.
Program Overview
Scientific program
The aim of the scientific program is to highlight some areas in Physics, Mathematics, Astronomy and Computing Science. We plan to visit the following universities, institutes and companies.
Peking University

Peking University is a comprehensive and National key university. The campus, known as "Yan Yuan"-- the gardens of Yan, is situated at the northeast of the Haidian District at the western suburbs of Beijing. It stands near the Yuan Ming Gardens and the Summer Palace.
The University consists of 30 colleges and 12 departments, with 93 specialties for undergraduates,2 specialties for the second Bachelor's degree, 199 specialties for Master candidates and 173 specialties for Doctoral candidates. While still laying stress on basic sciences, the university has paid special attention to the development of applied sciences.
At present, Peking university has 216 research institutes and research centres, and there are 2 national engineering research centres, 81 key national disciplines, 12 national key laboratories.
The university has made an effective combination of the research on important scientific issues with the training of personnel with high level specialized knowledge and professional skill as demanded by the country's socialist modernization. It strives not only for the simultaneous improvements in teaching and research work, but also for the promotion of interaction and mutual promotion among various subjects.
Thus Peking University has become a center for teaching and research and a university of the new type, consisting of diverse branches of learning such as pure and applied sciences, social sciences and the humanities, and sciences of management and education. Its aim is to rank among the world's best universities in the 21st century.
Tsinghua University

Tsinghua University was established in Beijing in 1911 on the site of a former royal garden, and was funded by an indemnity which China paid the United States after the Boxer Rebellion. It was at first a preparatory school for those who were sent by the government to study in the United States. In 1925, a four-year university section was established.
When the war broke between China and Japan in 1937, Tsinghua University, along with Peking University and Nankai University, merged to form the Southwest Associated University in Kunming. After the war, Tsinghua moved back to Beijing and resumed its operation.
In 1952, Tsinghua University was readjusted and became a multidisciplinary polytechnic university with an emphasis on training engineers.
As of the end of 2003, Tsinghua University had 12 colleges and 48 departments, 41 research institutes, 35 research centers, and 167 laboratories, including 15 national key laboratories. The university offers 51 bachelor's degree programs, 139 master's degree programs and 107 Ph.D. programs.
Raycom

Raycom Technology was founded in April 2000 in the ZhongGuanCun Science Park located in Beijing, China. As a privately owned, high-tech fab-less IC design house, Raycom is one of the early players in China's market for ASIC design for telecommunication. Relying on an experienced R&D team, Raycom has successfully developed an SDH chipset, digital multiplexing chips and protocol converting chips, and in just four years has already become a key silicon solution provider in the domestic network communication market. With the successful development, we continue to refine our technique of communication system and VLSI. In 2003, we have introduced a complete series of SDH transmission system of STM-1 level based on our own ASIC chip sets successfully. They are featuring very compact low cost and low power consumption for access networks In 2002 and 2003, we won the honor of the TOP10 enterprise of most potential development in ZhongGuanCun Park. In 2003, Raycom was approved by the ISO-9001: 2000 Quality Management System Certification.
Chinese Academy of Sciences (CAS)

The mission of CAS is to conduct research in basic and technological sciences; to undertake nationwide integrated surveys on natural resources and ecological environment; to provide the country with scientific data and advice for governmental decision-making, and to undertake government-assigned projects with regard to key S&T problems in the process of social and economic development; to initiate personnel training; and to promote China's high-tech enterprises by its active involvement in these areas.
CAS strives to build itself into a scientific research base at advanced international level, a base for fostering and bringing up advanced S&T talents, and a base for promoting the development of China's high and new technology industries. By 2010, CAS will have about 80 national institutes noted for their powerful capacities in S&T innovation and sustainable development or with distinctive features; thirty of them will become internationally acknowledged, high-level research institutions, and three to five will be world class.
At CAS, we will pay a visit to the Institute of Chemistry (ICCAS), which is among the most prestigeous research institutions in China. The institute hosts the National Nanoscience Center in its campus.
Another institute at CAS we are planning to pay a visit, is the Institute of Software (ISCAS). More information about this institute will be included soon!
Kenuohua

Beijing Kenuohua electronic Technology Co., Ltd is a high–Tech Company located in Zhongguanchun High–Tech Zone in Beijing. Established in 1996, it possesses a factory of international standard that covers a total area of over 3,000 square meters with a staff member of more than one hundred and fifty .Its owns an advanced production line whose annual production capacity could reach over 2000 sets of CIJ printers and 560,000L consumables for printing. (c) 2005 Beijing Kenuohua Electronic Technology Co., Ltd
Intel China Research Center (ICRC)

The research facilities in Intel China Research Center provide insight into future microprocessors and platforms, new uses and users for Intel® microprocessors with a focus on the Internet environment, innovations in technology and system architectures, and leadership in networking and communications technologies. (c) 2005 Intel Corporation
China Institute of Atomic Energy (CIAE)

China Institute of Atomic Energy (CIAE) was founded in 1950. It is the birth place of nuclear science and technology in China and it is also the largest nuclear science and technology base implementing pioneering, basic and comprehensive studies. It has a staff of 3400, including 660 senior scientists and senior engineers, 43 supervisors of doctoral students and 9 members of Chinese Academy of Sciences and Chinese Academy of Engineering.
CIAE is equipped with three research reactors (15MW heavy water reactor, 3.5MW light water swimming pool reactor, 27kW neutron source reactor), four zero-power facilities, eleven accelerators, hot cells and associated various instruments and computers. With these facilities and equipments, CIAE is progressing a broad R&D program covering nuclear physics, nuclear chemistry and radiochemistry, reactor engineering, accelerator technology, nuclear electronics and detector techniques, isotope technology, radiation metrology, radiation protection, advanced materials, biomedical engineering, intensive laser application and electronic information techniques, etc. CIAE is doing or planning the following four significant projects: China experimental fast breeder reactor, China advanced research reactor, HI-13 Tandem accelerator upgrading project, Radiochemistry laboratory to meet the challenges of the 2lst century science and technology development.
Ricoh

Ricoh Co.,Ltd. was established on February 6, 1936. The Ricoh Group consists of 376 subsidiaries, and 28 affiliates. The Ricoh Group is engaged in such global-scale activities as the development, production, marketing, after-sales service, and recycling of office equipment, including copiers and printers, information equipment, optical devices, and other electronic equipment, in five regions around the world. (c) 2000-2005 Ricoh Co., Ltd.
University Kebangsaan Malaysia (UKM)

UKM today has expanded to twelve well-established faculties, four institutes and nine centres. UKM encompasses an academic community of 1,756 (156 professors; 357 associate professors; 1020 lecturers and 223 tutors and teachers), supporting staff of more than 7,000 and a student population of approximately 23,000. Currently, UKM has about 18,000 undergraduate students, and 5,000 postgraduate students of which 600 are foreign students from 30 different countries.
UKM strives for academic excellence with emphasis on a strong research culture and publications. The Government of Malaysia has identified UKM as a research university with an increasing amount of research grants amounting to more than USD 25 million during the period 2000-2002. The academic staffs of UKM are publishing their work and findings in reputable journals of international, regional and national standings.
Universiti Putra Malaysia (UPM)

Universiti Putra Malaysia formerly known as Universiti Pertanian Malaysia was founded in 1971 through the merger of Faculty of Agriculture, University Malaya and Agriculture College in Serdang. The first three founder faculties were Faculty of Agriculture, Faculty of Forestry and Faculty of Veterinary Medicine and Animal Science. UPM maintains its traditional role of education in focussing its tertiary level research on agriculture and its relevant areas.
In early 80's, UPM has expanded its scope by including science and technology into its areas of studies. In 1994, UPM aspired to be the University of the Next Millennium and in line with its vision, the name of Universiti Pertanian Malaysia was changed to Universiti Putra Malaysia by Malaysia's Prime Minister, Dato' Seri Dr. Mahathir Mohamed on April 3, 1997. This is looked upon as a strategic move in preparing UPM as a versatile, higher learning institution that is in tandem with Malaysia's dynamic technology.
MVD International Sdn. Bhd.

MVD International Sdn. Bhd. is known throughout Asia as a dedicated professional organization. Founded on a reputation of quality, service and integrity, MVD International has continued to deliver premium services since early 2000. Our objective is to maintain a leading position in the fields of investigative, criminology and technology services. Through a commitment to sound investigative principles, MVD International has exceeded our client.s expectations. With a proven record of accomplishment, MVD International has the financial stability, management infrastructure, experienced personnel and commitment to successfully act on behalf of our clients.
Western Digital

Western Digital Malaysia was founded in 1973. Their initial business was custom semiconductor packaging and test. They converted to hard disk drive (HDD) manufacturing in 1994. Their 500,000 sq. ft. operations is located in Sungei Way Free Industrial Zone in Petaling Jaya, near Kuala Lumpur and employs over 7000 people. They generate close to 10% of Malaysia's total electronic exports and is the country's largest airfreight exporter through KLIA.
As one of the data storage industry's pioneers and longtime leaders, Western Digital provides cost-effective products and services for people and organizations that collect, manage and use digital information.
Philips

Philips Semiconductors Seremban (PSS) is located at about 60 kilometers south of Kuala Lumpur. The company was founded in 1993 as a joint venture with Motorola called SMP. PSS is a small factory for high-level assemblage and tests of Multi Market Semiconductors. So, no complex Integrated Circuits or wafer production, but large numbers of transistors and diodes used in Consumer Electronics and the automotive industry.
Cultural program
In addition to the scientific component, some cultural activities are being planned to learn something about the Asian culture. Three weeks to visit the beautiful sites in Kuala Lumpur and Beijing, is of course very short. The goal is to give the participants an impression of the rich cultures of both cities.
Beijing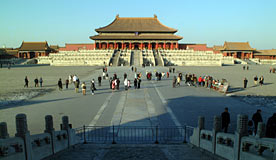 Beijing, the capital of the People's Republic of China, is the nation's political and cultural centre. Some 690,000 years ago, Peking Man lived at Zhoukoudian, 48 kilometres southwest of Beijing. A small town appeared on the present site of southwestern Beijing in 1045 B. C. It was named Ji and then changed to Yan. At the beginning of the 10th century, it was the second capital of the Liao Dynasty. From then on, the city had been the capital of the Jin, Yuan, Ming and Qing dynasties until 1911. In the early twenties, Beijing became the cradle of China's new democratic revolution. The May Fourth Movement against imperialism and feudalism began here in 1919. On October 1st 1949, Chairman Mao proclaimed to the whole world the founding of the People's Republic of China.
Beijing covers an area of 16,800 square kilometres and has a population of 10.855 million. About 5 million live in the city proper and the rest on the outskirts. It is divided into 12 districts and 6 counties.
A long history has left numerous famous historical sites which possess great aesthetic and cultural values. The Great Wall, a huge project begun more than 2,000 years ago, meanders through mountains and valleys for hundreds of kilometers in the region of Beijing. The Forbidden City, the largest ancient architectural complex extant today, is splendid crystallization of ancient Chinese architectural art. Walking in the city, one may find many places worth a second visit. These include mansions, gardens, gate towers, temples and places where many historical events took place. Every day, hundreds of thousands of people, domestic and foreign, come to Beijing to visit its grand palaces and graceful gardens and to enjoy its marvelous art.
Kuala Lumpur
Established in the mid-1800s, Kuala Lumpur is the youngest Southeast Asian capital. It's also one of the wealthiest and most appealing, blending charming colonial buildings with modern skyscrapers. As the commercial capital of Malaysia, it is situated midway along the west coast tin and rubber belt of Peninsular/West Malaysia, at the confluence of the Klang and Gombak rivers in hilly country west of the Main Range (Banjaran Titiwangsa). It sits at the center of the Peninsula's extensive and modern transportation network, serving as the ultra-modern cultural, commercial and transportation center of Malaysia. As the commercial capital and largest city in the nation with a population of 1.3 million (2000 Census), it is to some extent a reflection of the rest of the country. The residents of KL are predominately comprised of Malays, Chinese and Indians. The ethnic mix is evident in the various dialects, unique cuisines and diverse cultural offerings. Thus in KL, as in the rest of Malaysia, one will witness extraordinary diversity - in customs, religious beliefs, dress, cuisine, even language, although English is widely spoken.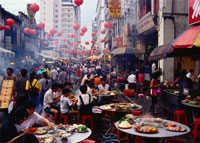 Any visitor to Kuala Lumpur will be struck by its many contrasts. On one hand, it is home to enormous modern projects, such as the Petronas Towers, which loom large over the city. On the other hand, there is still plenty of colonial charm reflected in many older buildings, as well as peaceful, understated architecture seen at some of the several mosques scattered about the town. The simple, but ubiquitous, outdoor hawker stalls are still generally the desired eatery for most Malaysians.
Flight

During our tour we will fly with Malaysia Airlines.
The flight from Schiphol airport to Beijing will take approximately 20 hours (including transfer time). From Beijing to Kuala Lumpur will take 6.5 hours and from Kuala Lumpur to Schiphol is a 13 hour flight. Our flight schedule is as follows:
| Flight | Date | From - To | Departure | Arrival |
| --- | --- | --- | --- | --- |
| MH 17 | 14-04-05 | AMS - KUL | 12:00 | 06:55 # |
| MH 372 | 15-04-05 | KUL - PEK | 08:45 | 14:45 |
| MH 373 | 29-04-05 | PEK - KUL | 16:10 | 22:40 |
| MH 16 | 07-05-05 | KUL - AMS | 23:45 | 05:55 # |
'#' means local time